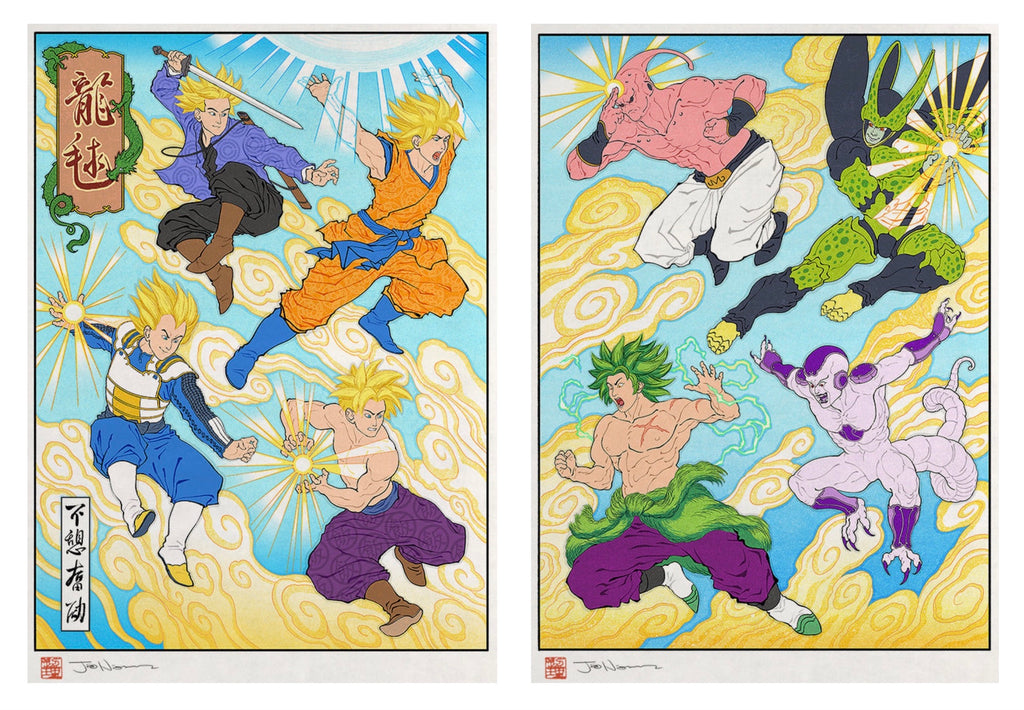 The Strongest Under Heaven / Attack From Above (Dragonball Z diptych)
Artist: Jed Henry
Title: The Strongest Under Heaven / Attack From Above (Dragonball Z diptych)
Print: set of 2 giclee prints on handmade Japanese paper, signed by the artist
Edition Type: open edition
Print Size: 31.5 x 43 cm (each print) (approx.)
Framed Size: 80 x 58 cm (approx.)
Standard Frame: black mini retro frame with white mat - prints specially matted in one frame to two side by side window openings/ view framing style
(Only available framed.) 
Note from the artist:
Traditional Japanese prints often depict legends from Japan's ancient past - images of gods, monsters and demons. It's an art style that lends itself well to showing the supernatural. Following that vein, it was a lot of fun adapting these superhuman characters into the Ukiyo-e style.

I created this bold, colorful design to look like one of Yoshitoshi's many warrior prints. The bright hues reflect the color palette of the original TV show.

The top caption translates to 'Dragon Ball'. The bottom caption translates to say 'Never resting, striving higher'.

.


Click here to see other products by:
Jed Henry