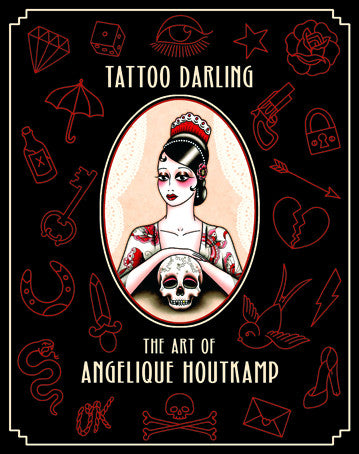 Tattoo Darling: The Art of Anqelique Houtkamp
"Angelique is the duchess of clean and exotique. She's loyal to her tattoo roots and her love of the past. Her work is deceptively simple, instantly recognizable and often humorous, I think she has the magic touch. From the fortuneteller to the red light district, her pretty ladies of a sailor's dreams take you to a mysterious, mythical place of a long lost era. I love it, she's my soul sister!" - Sunny Buick
Angelique Houtkamp is the inspirational Dutch tattoo mademoiselle of the contemporary art world. This fascinating monograph happily traverses her nostalgic, eclectic and beautifully rendered artistic wonderland with a strong focus on her fine art practice.
Classic old school tattoo imagery mixes with mythological dreams, anthropomorphised critters, nautical iconography, and haunting Hollywood romance by way of Angelique's distinctive painterly magic and eye for style. Watercolors and more recent oils glow from these pages.
A true celebration of Angelique's vision, charms and talents as a tattoo artist, painter, collector and personality. Wonderful new art, inspiration galore and swoon-worthy photos of Houtkamp at work... and at play!
Item details:
Softcover
Published by Outré Gallery Press
80 pages
Click here to see other products by:
Outré Gallery