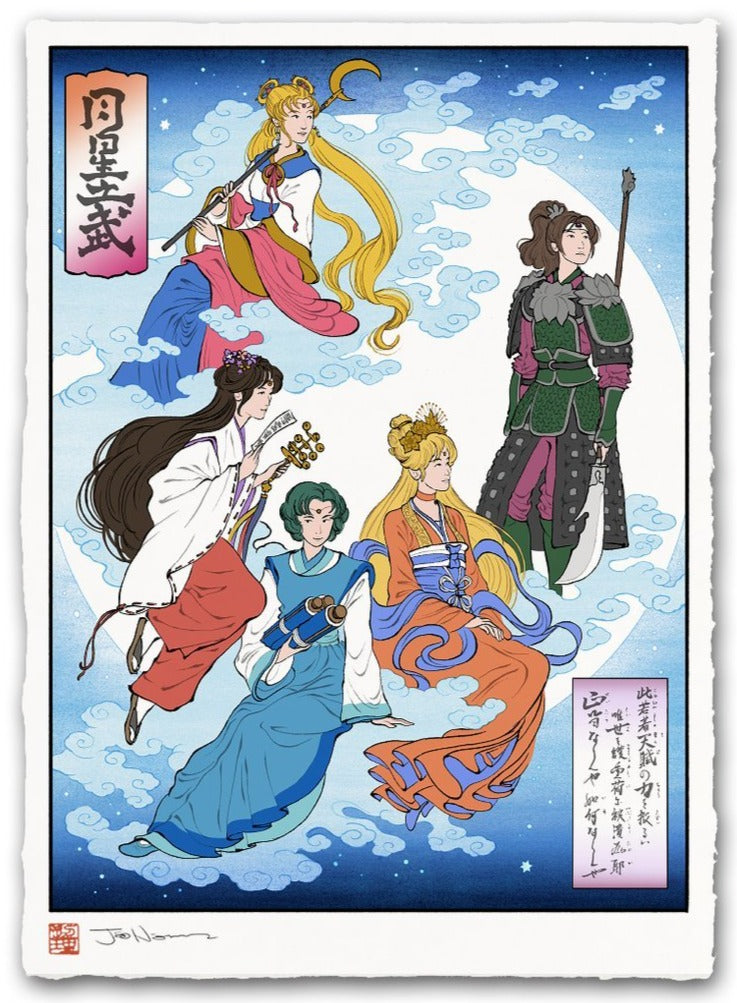 Warrior Maidens (Sailor Moon)
Artist: Jed Henry
Title: Warrior Maidens (Sailor Moon)
Print: giclée on handmade Japanese paper, signed by the artist
Edition Type: open edition
Print Size: 31.5 x 43 cm (approx)
Framed Size: 47 x 60 cm (approx)
standard frame: black mini retro / view framing style
** only available framed
Note from the artist on this work:
Most of my print designs feature male characters - a pattern that sometimes feels a little stale. By contrast, it was such a fun experience to redesign these strong young women in a premodern style. Instead of jagged lines, I tried to use smoother, more elegant shapes. I based the costume designs primarily on Chinese myths of the Moon Princess, Chang'e, since the original manga and anime also share the same cultural roots. 
The top left cartouche reads 月星之武, prounounced 'gessei no tsuwamono', which means 'Warriors of the Moon and Stars'.
The bottom right cartouche is inscribed with 
此若者天賦の力を授るハ唯世を護重荷に被潰為耶 正当ならんや 如何ならんや,
and can be read as, 'kono wakamono tenpu no chikara o sazukaru wa tada yo o mamoru omoni ni tsubusareru tame ka, seitō naran ya, ika naran ya'.  A rough translation can be interpreted to mean:
To endow power on these young women,
Only that they may be crushed 
Under the heavy burden of protecting our world,
Is it fair? Is it just?
Click here to see other products by:
Jed Henry