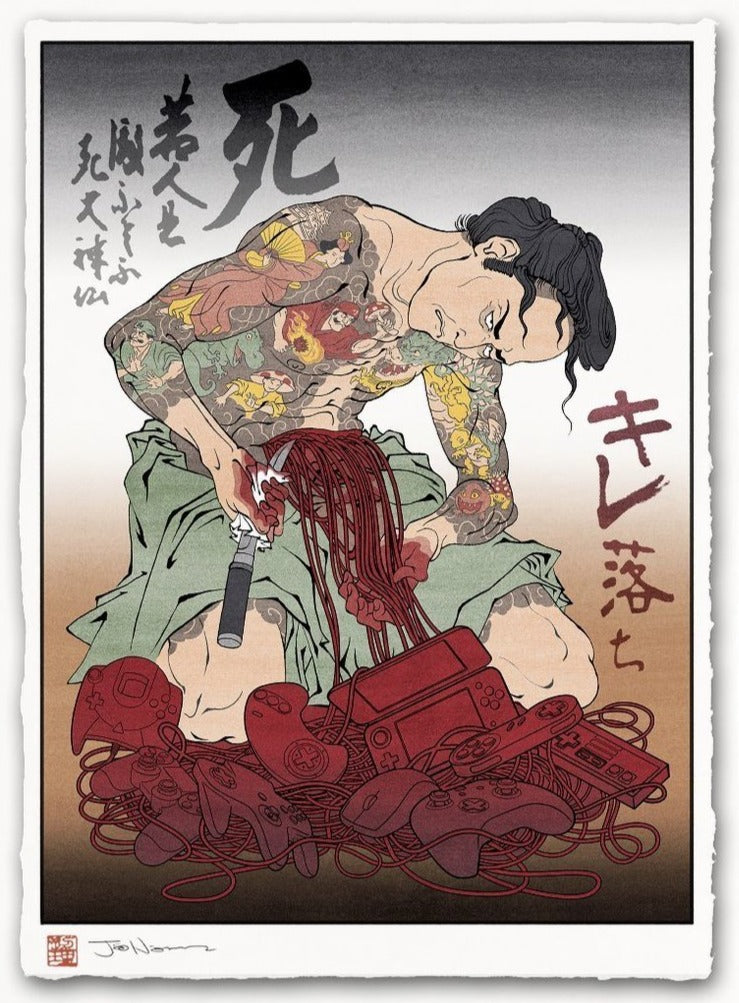 Rage Quit
print type: giclee on handmade japanese paper
edition type: open edition / signed by the artist
print size: 31.5 x 43 cm (approx)
frame size (standard): 47 x 60 cm (approx)
standard frame: black mini retro / view framing style
** only available framed
Note from the artist on this work:
We've all been there. After an evening spent trying to beat that one last boss, we realize it's 8:00 am, and we have work/class/adult life starting in just one hour! Where did the time go? Why didn't we just go to sleep like normal people?
*Sigh* - With enough coffee, maybe we can make it through the day!
This design is an anthem to every soul who has sacrificed her/his guts on the alter of gaming! Show your gamer guts with pride!
The left inscription is a famous death poem by the Japanese Zen master Hakuin Ekaku (1685 - 1768) . The translation reads:
Oh young folk —
if you fear death,
die now!
Having died once
you won't die again.
The right inscription reads as kireochi, which means 'rage quit', but also literally means 'to cut and fall'. (The Japanese language loves the word 'cut' - you find it in all kinds of idioms. It's a real blade-happy language.)
Click here to see other products by:
Jed Henry