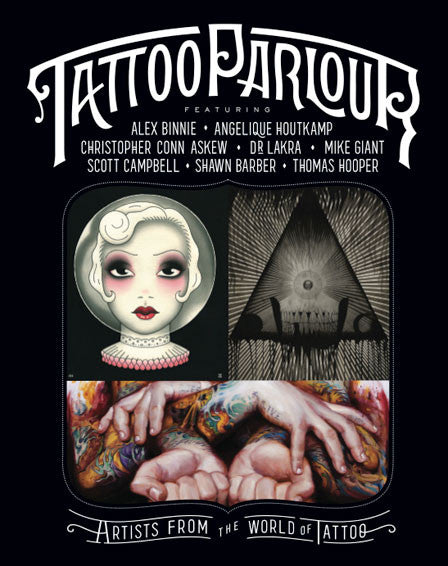 Tattoo Parlour: Artists from the World of Tattoo
Step into the studios of a hand picked group of artists who also have a foot in the world of tattoo. From Amsterdam to Brighton. From New York to San Francisco to Mexico.
Tattoo Parlour is a showcase of artworks made by artisans who also make tattoos. These are tattoo artists in the broadest and best sense of the term. From skin to canvas to laser cut dollar bills these are artists who are at once immersed in tattoo culture but also their own creative practice.

Forget clichés and parodies of tattoo imagery - here we delve a little deeper and explore artists who are influenced by different dimensions of what it means to be tattooed, make a tattoo and understand the language of tattoo discourse. This is not a book of flash - but of creative visions that touch on tattoo symbolism, technique, history, themes and community.
Enter the parlour and meet Alex Binnie, Angelique Houtkamp, Christopher Conn Askew, Dr Lakra, Mike Giant, Scott Campbell, Sean Barber, and Thomas Hooper. All photographed in their work spaces for an intimate glimpse at the details of their ordinary life.
Item details:
Softcover
Published by Outré Gallery Press
128 pages
Click here to see other products by:
Outré Gallery