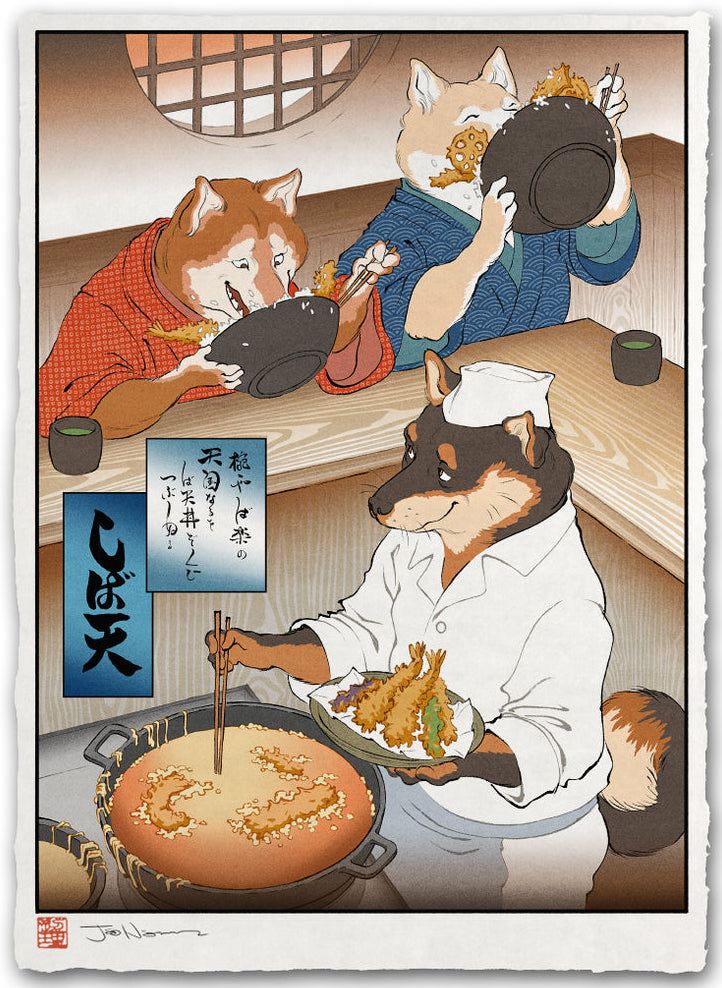 Shiba Tempura
Artist: Jed Henry
Title: Shiba Tempura
Print: giclee on handmade Japanese paper, signed by the artist
Edition Type: open edition
Print Size: 31.5 x 43 cm (approx.)
Framed Size: 47 x 60 cm (approx.)
Standard Frame: black mini retro frame with white mat / view framing style
(Only available framed.)
** October 7, 2023 - just sold out. More on the way and due late October, 2023. Pre-order now to secure and we'll fulfil your order as stock arrives.
Note from the artist:
In Japan, tempura can be found in both expensive kaiseki meals, as well as local greasy-spoon diners. But no matter which type of restaurant your visit, it's best not to eat like these two uncultured customers!

Then again, can you really blame them? The tempura is perfectly cooked, light and crispy, and you can't teach an old dog new... manners. Compliments to the chef!

The larger caption reads Shiba-Ten, which can mean 'Shiba Tempura' and also 'Shibas in Heaven'.

The smaller caption reads:

椀々やしば楽の天国なるをしば天丼ぞ食ひつぶしぬる

Each bowl is but a moment's heaven, yet still they woof it down— Shibarakuya's tempura bowl.
Click here to see other products by:
Jed Henry